Equipment and Facility Rental Rates
Meeting/Class Room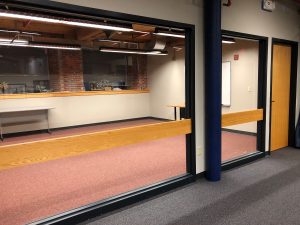 LTC has a comfortable first floor meeting room available to rent in its downtown Lowell office. The room is 18′ X 17′ and would fit 20 people. It has natural light, is handicap accessible and very secure, with public parking close by. Folding chairs, desks, four Apple computers, and wireless access are all included. The hours are Monday through Thursday from 10:00am to 9:00pm, Friday from 10:00am to 5:30pm, and Saturday from 10:00am to 1:00pm. The rate is $50/hour. Call 978-458-5400 to reserve the space for your meeting or class.
Equipment and Facility Rental Rates
LTC video production equipment and facilities are available to rent for Individuals, organizations, and businesses wishing to use LTC resources without puttting their projects on LTC channels. Renters will sign a rental agreement and take financial responsibility for all rented facilities and equipment. Renters must demonstrate their proficiency operating the equipment before reservations are accepted.
A copy of the renter's drivers license will be kept on file until the equipment is returned. Interested parties should contact Steve Manock at smanock@LTC to schedule the rental and an appointment to demonstrate expertise.
Rentals are per day, allowing for pick-up the day before and return the day after. Rentals must be paid in full upon pick-up. An advance deposit of 50% is recommended to assure availability. Renters take full responsibility for protecting the equipment and facilities.
Field Equipment Rental Rates
Cameras: Digital video cameras include the Sony PXW-X70HD camcorder, Sony NX5U camcorder, GoPro, Canon T5i
Audio: wired and wireless lavalier, handheld, shotgun mics; zoom audio recorder
Lighting: Portable three-point lighting kits
Tripods
Accessories: Cables, connectors, batteries
Multi-camera production: LiveStream HD portable video switcher (with staff on crew)
Rate for a field kit of camera, two batteries, tripod, two microphones: $200/day
Camera and tripod only: $175/day
Microphone or Zoom recorder and XLR cable: $25/day
Light Kit: $50/day
Studio Facilities and Rental Rates (Handicapped accessible)
Studio B: Small three-camera HD studio with green screen and Tricaster
switcher: $150/hour
Studio A: Large three-camera HD studio with full lighting grid, green screen and
Tricaster switcher: $150/hour.   Studio and lights only: $75/hour.
Production crew prices upon request.
Meeting Space in our large, first floor Art Gallery. (Membership is not required)
The gallery seats up to 75 people, and can be set up theater style or with banquet tables to create the feeling you want for your event. Food is carry in and carry out. You can feel free to use your own vendor or self-cater. If you wish to serve alcohol, you must obtain a permit from the licensing commission. (link: https://www.lowellma.gov/law/license/) LTC's AV set-up allows you to screen movies, present a slideshow, or play live or recorded music.
$50/hour during regular business hours (M-Thur 10am-9:30pm; Fri 10am-6pm; Sat 10am-2pm). $100/hour during closed hours.
**Our members can book the gallery for FREE for four events/year that are open and free to the public.