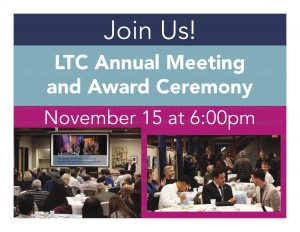 Thursday, November 15, 2018, 6:00pm in the LTC Gallery. 
All LTC members and friends should plan to attend our Annual Meeting that includes a pot luck dinner, reports from the Director and Board, a Raffle, and the highlight of the evening, the 2018 LTC Member Awards. We may also elect some new Member Representatives to the Board of Directors.
According to the Organization By-Laws, 50% of the LTC Board is appointed by the City Manager, Mayor and School Committee. The other 50% are member representatives that are elected for three-year terms at the Annual Meeting. We expect to have a few Member Representative positions open in November. If you are interested in running for election at the meeting, please send your resume and a letter of interest to Executive Director Wendy Blom at wblom@LTC.org by November 1.
Thank you and don't forget to save the date: November 15.
See you there!
If you can donate a gift card for the raffle, please contact
Wendy at wblom@ltc.org. Your business will be thanked during the televised meeting which will be broadcast multiple times over four weeks on LTC's TV channels.