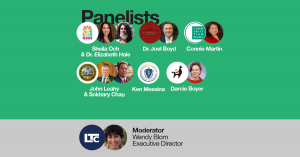 Watch the May 14 Town Hall Forum co-hosted by LTC and Lifting Lowellians: Assistance and Mutual Aid (LLAMA). The on-demand link is here:
https://bit.ly/3g8AVPH
The panel discussion was moderated by LTC's Executive Director Wendy Blom. The panel includes:
LLAMA 

Darcie Boyer, LLAMA & Lowell Education Justice Alliance

Lowell Public Schools

Dr. Joel Boyd, LPS Superintendent

Lowell Community Health Center

Dr. Elizabeth Hale, Chief of Clinical Services

Sheila Och, Chief of Community Health & Policy

Lowell City Council

Sokhary Chau, City Councilor

Mayor John Leahy

John Drinkwater

Community Teamwork, Inc. 

Connie Martin, Division Director for the

Division of Energy and Community Resources

Department of Unemployment Assistance

Ken Messina, Rapid Response Director for the

Executive Office of Labor and Workforce Development
Following the broadcast, the program will be posted online. Check the homepage of LTC.org for details.