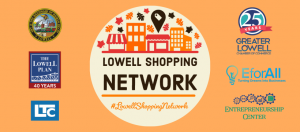 Lowell TeleMedia Center in partnership with the City of Lowell's Economic Development Office, the Greater Lowell Chamber of Commerce, the Lowell Plan, EforAll and the Entrepreneurship Center at CTI is launching the Lowell Shopping Network!
The weekend of November 21st and 22nd, Lowell TeleMedia Center (LTC) will be airing two-minute videos created by Lowell businesses on channels 8 and 95 and on Facebook. Please save the date and follow LTC's Facebook Page to share videos with friends and family. Everyone is welcome to join the Lowell Shopping Network Facebook Group, which will be active not only for the month of November but beyond that for future events.
To learn more, please visit the Chamber's website here.