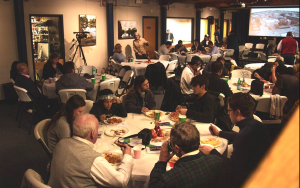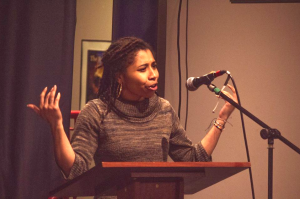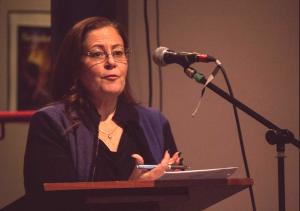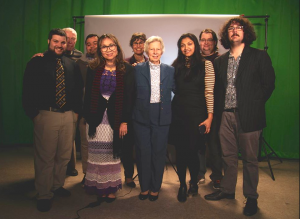 Pictured Above: The pot luck dinner, Maritza Grooms, Kerran Vigroux, the LTC staff
Four new members of the Board of Directors were elected at the Lowell TeleMedia Center (LTC) Annual Meeting and Party that took place on November 21. Sue Kim, Elizabeth Noel, Luz Vasudevan, and Jennifer Aradhya all represent various organizations and communities that are active members of LTC.  Four additional Board members will be appointed by the City Council and the City Manager, bringing the total number on the Board to 17.
At the meeting, Board President Michael Reid and Treasurer Brendan Flynn gave reports on LTC  activities and the sound fiscal condition of the organization. Executive Director Wendy Blom congratulated the members for LTC's award for Overall Excellence from the Alliance for Community Media Northeast Region. She pointed out that across the country local newspapers are closing, leaving communities without reliable coverage of their government, schools, and important local events and issues.  Lowell is fortunate that it has two papers, the Lowell Sun and Khmer Post USA, and that LTC also provides valuable coverage with its member-produced programs, live City meeting coverage, and the bi-weekly news magazine show, "LTC News." Lowell City Councilor Vesna Nuon commended the LTC producers for their work on programs that express their opinions about local affairs.
Following the meeting, four LTC producers spoke about their programs and their impact on the community. They were Visal Chin for "CMAA TV," Maritza Grooms for "History in Lowell," Jim Wilde for "Smart Home Buying with the MVHP", and Fru Nkimbeng for "African Hour." The traditional Cambodian band "Tepniym" provided entertainment.