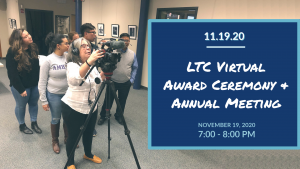 The LTC 2020 virtual Annual Meeting and Award Ceremony was held on November 19, 2020. Participants heard comments from City Manager Eileen Donoghue and City Councillor Vesna Nuon. Reports were presented by Michael Reid, Board President, Brendan Flynn, Board Treasurer, and Wendy Blom, Executive Director. Seven LTC awards were presented to members:
Community Spirit: CMAA
LTC Spirit: Alan Baillargeon, Producer of NewEARS podcast
Producer of the Year: Jim Wilde, Executive Director of Merrimack Valley Housing Partnership
Channel 8 Show of the Year: Ronny Perrin and Johnny Descoteaux for "Talking Sports with Ronny and Johnny"
Channel 95 Show of the year: Bory Kem for "Cambodian Women Learning Project"
Pandemic Resilience Award: Narong Hul for "Khmer Talk"
Lifetime Achievement Award: Danielle McFadden, Producer of "Chamber Chat"
Please click on the event link below to watch the meeting and awards.