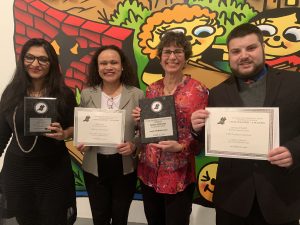 Lowell TeleMedia Center (LTC) is the winner of four awards from the Alliance for Community Media Northeast Region (ACM-NE). Competing against entries from public access stations in Connecticut, Maine, Massachusetts, New Hampshire, New York, and Vermont, LTC won the highly coveted award for Overall Excellence in its budget category as well as three program awards.
LTC's Community Producer Soumita Acharya won first place in the Event Coverage-Multiple Cameras category for her coverage of the 2018 Lowell Kinetic Sculpture Race. Covering this "Triathlon of the Art World" had cameras following human-powered, all-terrain sculptures riding over cobblestones, through a mud pit, and navigating the Merrimack River.
In the PSA/Short Program Category, former staff member Caroline Gallagher's fast-paced PSA, capturing a variety of eye-catching scenes shot by LTC to promote LTC's Production Services, won second place.
LTC member Nancy Peña, producer and host of the bilingual monthly show "Colores Latinos" won third place in the Community Impact category for her Safe Injections Facilities episode featuring Dr. Steven Defoseez explaining the benefits of these facilities in reducing death, HIV and Hepatitis C infections.
The awards were presented at the ACM-NE Nor'easter Video Awards Ceremony in Portland, Maine on October 31, 2019. Pictured with the four awards in the photo above are Soumita Acharya, Nancy Peña, Wendy Blom, and Matt Nelson.
LTC's programming airs on Channels 8, 95, and 99, streams live and is available on demand from its website LTC.org, Youtube, and Facebook. LTC can also be found on Roku. Search for "LTC Lowell" and subscribe for free.