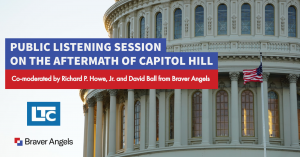 Lowell TeleMedia Center will be holding a virtual Public Listening Session on the Aftermath of Capitol Hill on Thursday, January 28, 2021 at 5:30 pm. David Ball, Massachusetts State Coordinator of Braver Angels, will co-moderate a discussion and action-oriented listening session with Richard P. Howe, Jr., Register of Deeds and founder of Lowell Walks. 
At this event, we'll gather strength from one another. We'll listen to people who voted differently. We'll find ways forward together. Most of all, we'll leave with action steps that each of us can take to serve and heal our country.   
Braver Angels is a nonpartisan nonprofit dedicated to depolarizing American politics. Their approach is guided by the Braver Angels Pledge:
As individuals, we try to understand the other side's point of view, even if we don't agree with it.
In our communities, we engage those we disagree with, looking for common ground and ways to work together.
In politics, we support principles that bring us together rather than divide us.
This public event is free and inclusive for liberals, conservatives, progressives, moderates, etc.. Please register on EventBrite here. For more information, email Sabrina Pedersen at spedersen@ltc.org or visit LTC's Facebook Page @LTCLowell.