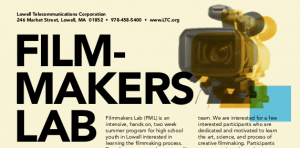 July 9 – 20, 2018 – Monday through Friday 10am – 1pm
Filmmakers Lab (FML) is an intensive, hands on, two week summer program for high school youth in Lowell interested in learning the filmmaking process. Together as a team, the group will learn the basic steps and skills of producing an original film. They will learn how to develop a script, scout for locations, storyboard the action, act for film, and record "on-location" and in the LTC studio. Finally the group will learn video editing and other elements of post-production.
Students, prepare to be challenged and to have fun. Prepare to contribute and help meet the needs of a successful team. We are looking for a few interested participants who are dedicated and motivated to learn the art, science, and process of creative filmmaking. Participants must commit to the entire two week program.
FML Instructor, André Mayo is the founder and owner of Mister Earl Grey–where he leads art direction in branding and media production for various clients (including the City of Lowell, Lowell Burger Co., LTC and various others). Over many years, he has also instructed youth in the arts and has a passion and gift for inspiring and cultivating creativity in the next generation of creatives.
To apply, download and fill out the attached application. For more information, call Wendy Blom, LTC Executive Director at 978-458-5400.