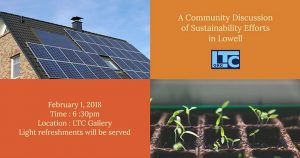 Join us tonight, Thursday, February 1, for a community discussion of sustainability efforts in Lowell.
Hear guest speakers describe what's happening and what is envisioned.
Visit information tables and meet your neighbors who are involved in these efforts.
Learn what you can do to help in these efforts.
Light refreshments will be served.